It is truly a jungle with different options when it comes to choosing how and what house to build. The pricerange varies from superexpensive (custom and hands-on drawn by an architect) to budget (will barely last your generation or stand the test of time). And then there is everything in between.
I view my self as particular when it comes to material. I always go for the natural building materials (wood, stone and so on) and I can´t stand for things to have a short lifecycle (trends are not for me!) so I always opt for the timeless and durable.
But with this said I really don´t have the need for everything to be tailored to accomodate my needs but acctually enjoy the detectivework of sourcing the right kitchendecor and stonetiles for my bathroom so hiring an architect to serve me everything is not what either of us wanted. Besides the house has to become a home and I can not envision myself and my family living in a posh upscale fasade villa. I simply want a home!
After looking in to the different options and together talking through our needs, wishes and must have we agreed we wanted a wooden house built in an angle with a separete area tucked away in one end of the house where the boys can hang out with their friends without us having to mingle there uninvited but still leave us a social area where we could reside. This house would suit the needs of a family with teenagers with all that that implies. As much as I love my kids they do need their own space to entertain and have their own downtime.
I knew I would not find my dreamhouse with the perfect floorplan but would need to find a semiready house that could be costumized. Our answer was VårgårdaHus, housemodell Ekhagen. This house resembled what I envisioned and could be costumized by the buyer before ordering. I contacted them the first time in 2019 and talked to the man who now is our projectmanager for the build. After some sketching and different versions I truly feel this is the perfect floorplan for us.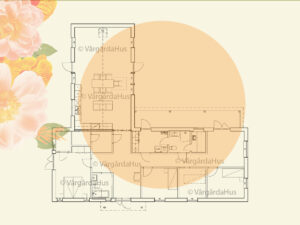 There were many pieces that finally came together with deciding to build with VårgårdaHus. They offer as standard alot of the fixings I would have chosen and the are flexible enough so that the house feels like yours not just a house you picked out of the catalogue. I have high hopes that this will be the house of my dreams! It´s been a long walk up to this point (many delays that I am not too thrilled about) but last week we finally ordered the build!